Collection · The Library
The Library began to take shape in approximately 1860, when Mr Francisco already collected high-quality works. The first procedures to buy a very interesting collection from Enrique de Vedia y Goossens date back to this time. Enrique, particularly interested in this subject, was a Consul and travelled around Europe, where he could buy good works
Together with said set of good works, he bought an excellent one that belonged to Francisco Pérez Cabrera y Bobadilla, Marquis of Moya. It is a part of the ancient Library of the Marquis, which disappeared. Most of it was bought from Pedro Vindel, a librarian of Madrid. The works are bound in leather with engraved golden edges and the coat of arms of the Marquis.
Another important collection, very rare due to its few works, is the one that belonged to the Duke of Medina de las Torres, whose coat of arms appears in the delicate binding.
The oldest work in the Library is the Code of Leovigild, from the 10th century. The Cartulary of Cardeña dates back to the 11th century, a Book of Hours to the 14th century, as well as a code by Boecio, De Consolatione in Romance French. Several incunables are part of the Collections. Most of them date back to the 16th, 17th and 18th centuries. There are less works from the 19th century, but they are very interesting.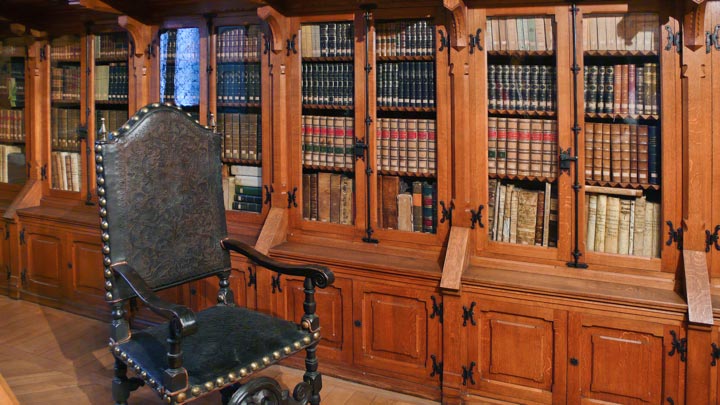 The Archive
The documents that are part of the Collections of the Archive mostly come from the House of Altamira, and a few belonged to the 19th century collector Juan Ignacio Miró, who sold them together with other goods. These documents cover the period from the 10th to the 19th century.
Interest for research is very important, due to the originality and importance of key people in History, such as the Catholic Monarchs, the Great Captain, Charles V, Philip II and many different subjects: Inquisition cases, theatre, etc.
The collection of Royal bulls and charters by Juan II to Mr Álvaro de Luna, exquisitely decorated, is really remarkable.